PLC Update Improves Production Efficiency and System Integrity
Permolex International was in need of a facility upgrade. The expert team at Impel Systems provided the solution by converting the existing, obsolete programmable logic controllers (PLC) to new; allowing Permolex to integrate the entire system to a single, reliable, and informative human machine interface (HMI). The upgrade and migration not only improved operator effectiveness, ensured system integrity, and maximized efficiency, but did so with zero added down-time.
Background
Impel Systems
Based in Western Canada, Impel Systems provides complete automation solutions: the design, engineering, programming, installation, and commissioning of turbine, process, and cross-platform control systems. From the most complex PLC design, to regular system maintenance, upgrades, and updates, the Impel Systems team combines global controls implementation expertise and diverse experience to provide unmatched value for clients in the oil and gas, agriculture, municipal, and food and beverage industries.
Impel offers the following core services:
specializing in compression equipment, full facility, and rotating engine controls, with particular expertise in turbine engines
providing operator-friendly, customized software solutions, including training and support
prototyping panels, designing custom HMI screens, hosting factory acceptance tests (FATs), and ensuring minimized to zero down-time during installation
optimizing existing control systems, regardless of origin, to ultimately provide cost savings
recovering grant funding for carbon credit-eligible projects
Permolex Ltd
Permolex Ltd. is an emerging global leader in the production of food grade bread flour, gluten, and fuel grade ethanol from multiple feedstocks such as feed grade wheat, barley, rye or triticale. The Permolex grain fractionation facility in Red Deer, Alberta is specifically unique in North America, incorporating leading edge technologies and processes to integrate five traditionally independent manufacturing processes:
production of flour using food grade wheat
production of vital wheat gluten using the by-product of the flour process
production of ethanol biofuel using the by-product of the gluten process
a natural gas fired cogeneration power plant that enables the facility to be completely off of the electrical grid, producing all of the steam and electrical needs for the site, and
a packaging plant.
The facilty's primary feedstock input, non-GMO wheat, is sourced locally from approximately 1,400 Alberta farmers and used to create the three primary Permolex products: Bread flour (sold primarily within Alberta to baking suppliers for Costco and McDonalds), high-quality gluten (in high demand and sold internationally), and fuel grade ethanol (distributed in Alberta and BC).  Other by-products from the production processes are sold as animal feed, enabling the facility to be zero waste.
While demand for flour and gluten has remained consistent, the market for ethanol biofuels is in a particular time of growth because of its positive environmental impact. The Permolex facility produced 421,000,000L of ethanol between 2003-2015 and, as motor vehicle biofuel, eliminating 516,000 tones of greenhouse gas emissions, which is the equivalent to removing 108,942 cars from the road for one year.
Future development plans for the facility include the introduction of an anerobic digester to the final stage of production. This addition would use the by-product of the ethanol process to create green biogas for use in the on-site co-gen. This will create the ability to consume all process by-product during sustainably continued production and even feed excess power back to the grid.
The Problem
Built in 1997, the Permolex Ltd. Facility is a very unique biorefinery integrating five traditionally singular production plants under one roof. The facility's outdated controls left room for improvement. The existing PLC components were obsolete and unsupported by the manufacturer. The facility was built in stages over time, during which the system patches and undocumented quick fixes grew into a complicated and unmanageable puzzle. The operators became the glue holding together isolated systems and pockets of process disconnected from the main controls interface.
They were in desparate need of a facility upgrade that would not only link their mismatched previous systems but take them into new reporting and dashboard territory. Their systems were starting to fail and they were urgently looking for a replacement system and team to manage the upgrade.
The Solution
Expert intervention was required to quickly sort through a tangled web of programming, panel hard-wiring and networking. Permolex turned to Impel to establish the most cost-effective strategy to restore functionality and reliability without creating excessive down-time; Impel provided a roadmap for the entire system upgrade.
The expert team at Impel Systems proposed and managed the upgrade in stages to allow for a streamlined approach. The solution included:
Converting the existing, critically obsolete programmable logic controllers (PLC) to new.
Allowing Permolex to integrate the entire plant and therefore logic system, to a single, reliable, and informative human machine interface (HMI).
The upgrade and migration not only improved operator effectiveness, ensured system integrity, and maximized efficiency, but did so with a tight turn around and zero added down-time.  Previous stages leading up to this milestone included:
Upgrade the Co-Gen Turbine from PLC5 to ControlLogix.
Upgrade the Utilities PLC5 to ControlLogix.
Upgrade the gluten process PLC5 and PLC2 hardware to ControlLogix with Flex I/O Module adapter kits and integrate the gluten programming into the utilities CPU.
The final and fourth stage of updates were completed in May 2017 and included upgrading both the bread flour mill as well as the ethanol plant:
Upgrade front-end old Honeywell distributed control system (DCS) to FactoryTalk View Studio (this was completed by Permolex).
Upgrade the ethanol process PLC5 to ControlLogix with Flex I/O Module adapter kits and integrate the ethanol programming into the utilities CPU.
Upgrade the flour process from four SLC racks to three ControlLogix racks by swapping out the entire panel back plate with a new pre-wired version (shown below).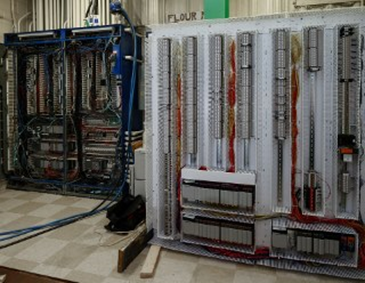 Existing panel (left) awaits upgrade by replacement panel back plate (right) with upgraded components and internal wiring installed off-site to minimize down-time on conversion
Replace all Data Highway with EtherNet/IP.
The final stage updates completely avoided re-termination of field wires in ethanol and previous process areas, where direct swap ControlLogix I/O Module racks were installed to utilize existing wiring. The ethanol upgrade included 736 discrete and 280 analog points, with installation and full commissioning completed in two days by two workers.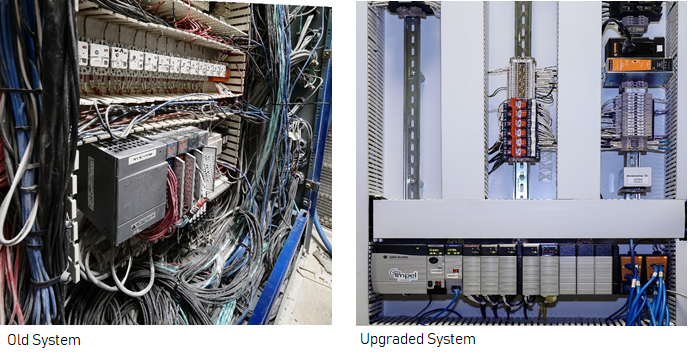 Re-termination of external connections could not be avoided for the flour process and labor costs per point were expectedly higher as a result. Despite the increase in costs, Impel remained focused on minimizing conversion down-time and pre-assembled an entire replacement panel back plate to simplify on-site installation requirements. The upgrade to the flour process included 527 discrete and 40 analog points. Installation and commissioning was completed in four days and nights by five workers. Utilizing the replacement panel back plate required a similar labor total overall, but moved three days of labor off-site and outside of the restricted shutdown time frame.
Impel completed the successful installation on schedule and provided remote and on-site support to train the new system operators. Operators can visualize their process with far more data and detail. The system expandability provides a sense of future-proofing, and the development path of those future controls requirements is clear and well mapped. Permolex Ltd. is in good hands with Allen Bradley ControlLogix and FactoryTalk products. Impel Systems has again demonstrated expertise in existing system assessment, integration, and the design of optimized controls solutions tailored to the client's needs.